The French company AZENCO has the advantage of a level of expertise recognised in Europe, as a manufacturer and installer of high quality swimming pool shelters and covers that combine safety, aesthetics and ease of use. It is also developing its brand among professionals and distributors in England, Italy, Germany, Sweden, Portugal, and other countries.

In addition, the company has developed a telescopic shelter kit, specially designed for professionals abroad and consisting of profiles with reinforced safety.

One of its flagship products, the Néo shelter, is also composed of nested modules that can be deployed one by one, uncovering the pool according, fully or partially. Without guide rails on the ground it is positioned on the deck to form a very unobtrusive installation.
When the Néo is fully folded, the pool can be accessed without obstruction. The Néo is available in three heights: 18, 30 or 50 cm, and in an XXL version for large pools, with the reinforced profiles that are specific to high shelters.
| | |
| --- | --- |
| Neo | R-Design |

To complete this range, the manufacturer offers the "Neo View", consisting of an identical structure but with a surface integrally composed of transparent polycarbonate.

For those who prefer high shelters, its R-Design model provides can also be opened to the exterior, thanks to its modular structure, offering easy access to the garden.
A mid-high model with a height of 1.80 m is also available.

Furthermore, AZENCO provides a range of safety covers that adapt to all swimming pools. Aboveground fixed or movable, or submerged, they open and close effortlessly with the turn of a key.
Their decks are made of opaque PVC or polycarbonate slats, waterproof and hinged, to float effortlessly on the surface of the water.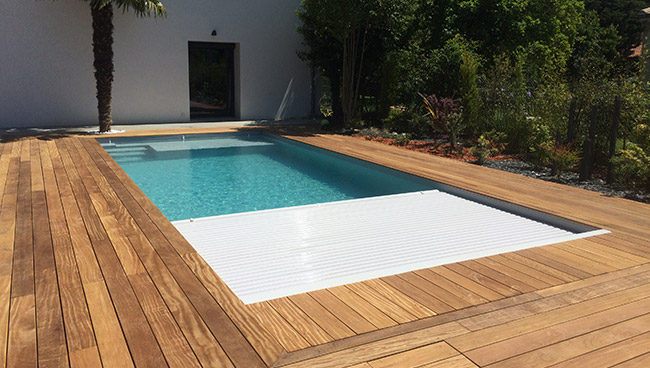 The Group is present in France, but also in Spain and Switzerland, thanks to its dedicated agencies and sales representatives.

To be discovered at Piscina & Wellness Barcelona