The new mobile Pooldeck : both a pool security cover and a versatile patio
A next-generation automated system
Pool enclosure specialists, AZENCO, have designed and launched their new mobile Pooldeck, which can be both a pool security cover and a versatile patio for all sorts of activities.
Made in France, this mobile deck is equipped with a next-generation automated system. It lowers down inside the pool like an elevator until it reaches the bottom, leaving it completely invisible and secure. When it is in a lowered position, you can then use a remote control to gradually adjust it to the level you want.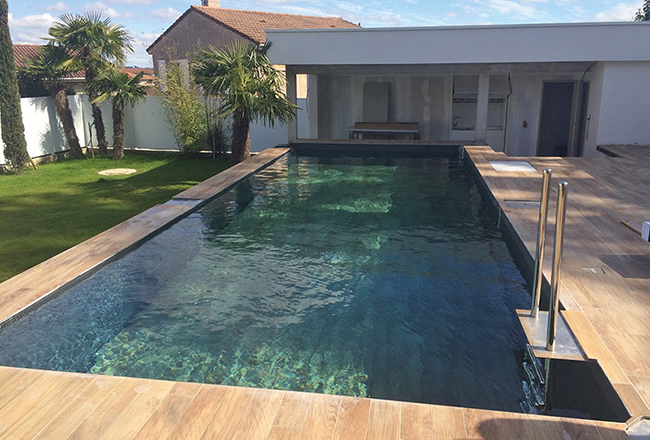 Several possibilities
Depending on the depth you want to adjust your mobile deck to, your pool can transform into a paddling pool filled with a very shallow level of water; a small pool where young swimmers can easily go for a swim; or a full-on swimming pool for the whole family when it is lowered to the bottom of the pool.
When it is in a closed position, the mobile deck becomes a beautiful secure patio, where you can forget that the pool is even there and enjoy it as a dry living space too: you can use it for playing games, sunbathing, as a therapy area (for paramedical professions), as a fitness area, etc.
The structure
In terms of its structure, the mobile Pooldeck has a super strong stainless-steel frame, which can be covered with wood or tiles so that it matches perfectly with your outdoor space. So as not to spoil its elegant design, all of the system's mechanical elements are located inside a compartment placed outside of the pool, inside a hatch next to the patio, and are easily accessible for maintenance.
It is available in 12 standard sizes, for pools between 8 and 32 m².