The Azenco Group structures its product offer for landscaping the outdoor areas of the home around 5 main axes: pool enclosures, slatted pool covers, deck enclosures (including bioclimatic pergolas and carports), spas, and enclosures for professionals and industrial use. The products are certified by Qualisport ProAbris and are entirely manufactured in France, combining innovation, design, quality and aesthetics.

Three flagship products have enabled the manufacturer to carve out a place for itself among pool cover leaders in the French market.

Among these, one that stands out is undoubtedly the Pooldeck, the 3-in-1 mobile deck, a combination of deck, beach and pool cover. Perfect for small spaces, but not solely, because this modular platform brings a touch of originality to the pool area, providing the same protection as a traditional safety cover, with space savings and aesthetics as bonus! Blending perfectly into the environment, its cladding is in composite wood in a choice of 4 colours.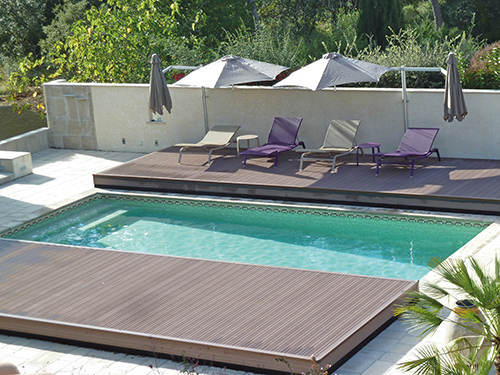 Pooldeck

The Neo telescopic pool enclosure also attracted attention during its launch because of its practicality. A telescopic cover, which retracts completely to the end of pool, one module after the other, and leaves the entire pool accessible. The guide, fitted on one side of the deck is equipped with ball bearings greased for life, making opening and closing easier.
The Neo is available in 3 profiles: Neo 18, the telescopic enclosure with the lowest profile in the market, Neo 30 and Neo 50. The Neo is available in the "Neo View", version with the same powder-coated aluminium frame and the entire surface in transparent polycarbonate.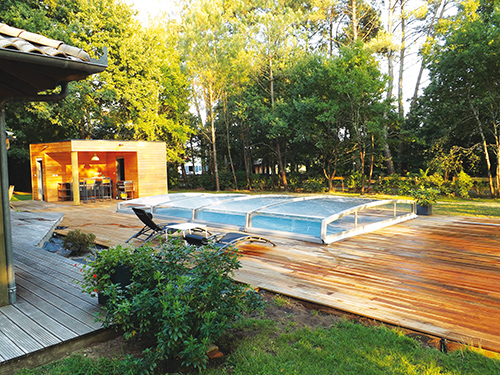 Neo

As for the high profile residential enclosure R-design, it not only attractive, but also has a wide space around the pool, so that one can enjoy it all through the year. It adds value to the home, creating a pleasant living space open to the outdoors. Easy to open and close, it is composed of sliding modular panels with a powder-coated aluminium frame and polycarbonate fillings double-treated anti-UV.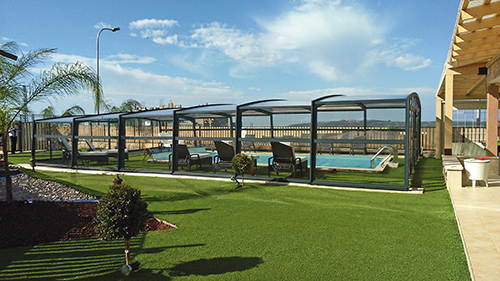 R-Design

A new spa enclosure and a pool enclosure kit for export, destined only for professionals, will be presented exclusively at the International Pool exhibition in Lyon.

This telescopic enclosure kit consists of profiles with reinforced safety features and a nominal height of 30 cm for the smallest element. This enclosure allows a gain in temperature of 7°C to 10°C. Its sliding panels telescope together easily to come and rest at the end of the pool. It offers elegance and transparency to the pool, and blends in harmoniously with its surroundings.

To be discovered at PISCINE GLOBAL 2016 in LYON
Stand 6B80