Since 2015, Azenco has been offering innovative and functional solutions for various configurations of outdoor spaces, adding ease of use and aesthetics to its creations. For the 2017 season, the manufacturer focuses the spotlight on pergolas and vehicle shelters with several innovations.
In keeping with the times, the R-Blade bioclimatic pergola is overlaid with adjustable slats for protection from the sun in summer, and to let in warmth and light in winter.
The air entering through the slats ensures pleasant natural ventilation. Furthermore, the slats are waterproof and in case it rains, the water drains out directly through each pole. The client can therefore enjoy this practical and aesthetic structure during any season. Made of aluminium with Qualicoat and Qualimarine labelling, the R-Blade offers several options, including climate control, for maximum comfort.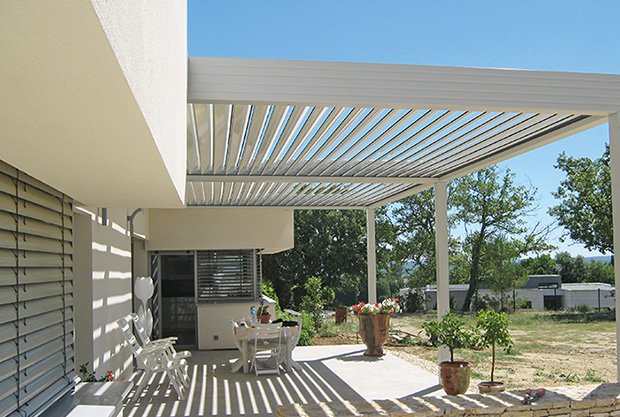 R-Blade bioclimatic pergola
For car shelters, the new e-Rcar Solar Carport, equipped with poly-crystalline solar panels, is used on the one hand to recover electrical energy that helps to self-finance the installation and on the other, prevents UV rays from altering the paint of the sheltered vehicles.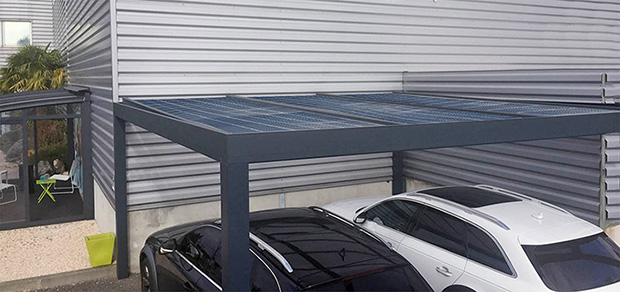 Rcar Solar Carport
The R-Car is intended in particular to shield motor homes, protecting them with its slightly curved roof that facilitates the evacuation of water. An outlet channel is also provided in the profiles, in order to limit and drain out condensation from the roof. This carport is made of powder-coated aluminium and dibon, with anti-UV and anti-yellowing treatment on both sides, protecting the vehicle from direct contact with UV rays. It can be placed against a supporting wall, attached or installed as a stand-alone construction.
R-car shelter