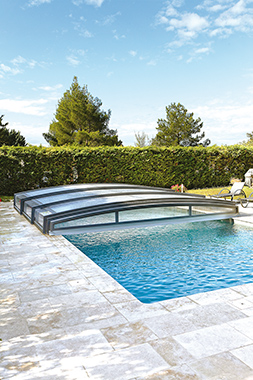 NEO30 is a low telescopic pool shelter that opens quickly and easily thanks to its nested panels of different widths that slide into each other.
It can be unfolded either module by module or to the full extent, and folds back to the end of the pool on the pool deck.
For a sleek and beautiful finish its panels have a covered frame that also increases its water-tightness, with transparent side panels along the entire length.
The manufacturer has provided a clever folding arrangement in transparent polycarbonate, reducing the number of reinforcements required, resulting in a contemporary design that is even more elegant.
Optionally, the NEO30 can be fitted with the new Azenco drive system that is fixed discreetly on the inner side of the first panel, making it practically invisible and helping to save space.
The shelter is therefore also lightweight.
It is also compatible with Visio®, the patented Azenco system that allows one to enter the pool without having to fold back the entire shelter.
By simply sliding the graduated panels, a section of the pool can be accessed instantly, without having to unlock the fastening system of the whole shelter.