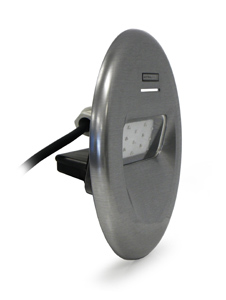 AstralPool launches LumiPlus Design, an innovative family of underwater LED floodlights that combines the most efficient and advanced LED technology with innovative design.
Their look and size (diameter is smaller than a PAR56 LED floodlight) means that this range blends in perfectly with any pool environment, in addition to giving a modern and distinctive touch.
Moreover, these projectors are set at an angle of 14º to better light up the pool bottom and reduce outdoor light pollution. They are the first ever underwater range made using in-mould decoration technology which is widely used in car manufacturing. In this case, plastic strips have been processed to look like stainless steel.
This range of LEDs is available in a pure white or stainless steel effect finish and in RGB, white or RGB-DMX lighting.
They are compatible with all LumiPlus Eco, Top, DMX and LED APP control systems distributed by AstralPool.
Not only they bring design in the pool but they improve luminous efficacy and energy efficiency by over 40% in comparison with similar competing products.
The floodlights come with a 2.5 metre, two-wire removable cable; but niches must be purchased separately.