Plascoat®'s ability to resist the corrosive agents present in swimming pools using salt electrolysis treatment could make a significant difference to the pool sector.

An innovative anti-corrosion solution
Saltwater electrolysis technology is very popular in residential pools as more than half of all new inground pool installations are equipped with it. Having a saltwater pool has many advantages over traditional chlorine ones: they are easier to maintain so the water is cleaner and clearer without the use of harsh chemicals, which also reduces skin and eye irritation. However, exposure to a saline environment can damage stainless steel equipment such as ladders or handrails. These damages can be visible through rust and corrosion.
With almost 30 years of proven performance, Plascoat® is a thermoplastic powder technology with the versatility to work in a wide array of applications and processing techniques. Astralpool is a pioneer in the use of this technology in the swimming pool sector as a durable coating since it provides long-term corrosion protection for metal against the most demanding and extreme environments.
The brand has chosen Plascoat® for its new ladders, which offers resistance not only to salt water but also to sun and sand. Thus, these stainless steel ladders coated with Plascoat® retain their integrity and aesthetics over time and at the same time do not require the use of a primer, reducing maintenance costs during the life of the product. Trustable and safe, the Plascoat® technology offers an easy-to-clean surface, universal and versatile.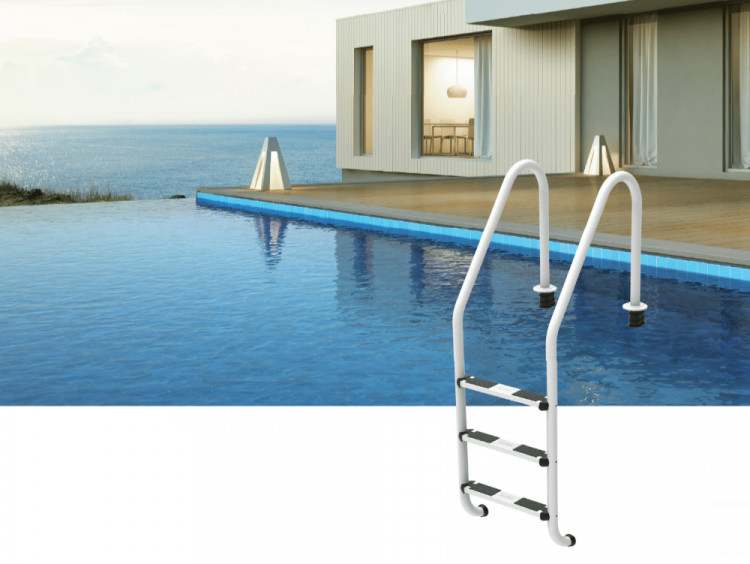 Ladder coated with Plascoat®