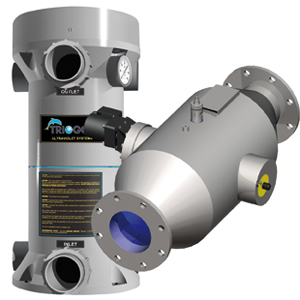 UV and ozone water treatment specialist Triogen is exhibiting two new systems at this year's Barcelona show, with the UVARAY CF system for commercial pools and the low-pressure TR2 UV range for residential pools, spas and water features.
The company's UVARAY Cross flow (CF) system has been developed with the aim of providing optimal ease of installation, and covers flow rates from 20 to 830 m3/h.
The CE approved system utilizes a 316L stainless steel reactor, and is fitted with a DVGW approved UV sensor, reactor temperature sensor and an automatic "smart drive" wiper system.
The reactor also features quick-release UV lamp connections, making lamp replacement simple.
The new system is said to be cost effective offering high efficiency, easy low-cost installation and maintenance.
Also on display for the first time is Triogen's new TR2 low-pressure UV system specially designed for the disinfection of small pools, spas, ponds and water features. The four TR2 models within the range covers flow rates up to 40 m3/h and are manufactured from UV-inhibited polymeric materials, making them suitable for pools utilizing both salt water chlorinators or standard chemical dosing. The system is claimed to offer reduced chemical consumption, improved algae control and water clarity along with superior bather comfort. Triogen says the TR-2 range is simple to install and operate, and provides low capital and running costs along with an 18-month UV lamp life.