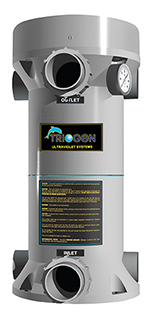 Ultraviolet and ozone water treatment specialist Triogen has expanded its range of Uvaray Crossflow medium-pressure UV water treatment systems for commercial pools.

The latest additions allow Triogen to offer units for flow rates from 20 to 1000 m3/h. The NSF International tested and certified and UL/ CE approved systems utilise a 316L stainless steel reactor, UV monitor, reactor temperature sensor and an automatic 'smart drive' wiper system, controlled via a touch-screen microprocessor control including a data-logging facility.

The UV reactor features quick-release UV lamp connections designed to make lamp replacement quick and easy. The systems are said to provide effective control of chloramines, and 'swimming pool smell', as well as destroying chlorine-resistant organisms, such as Cryptosporidium – with the added benefits that installation, operation and maintenance are claimed to be made simple and affordable.