During the show of Barcelona we met Bertrand PONS who recently joined the company TRIOGEN as a Sales Manager. He explains his choice and his vision for the company: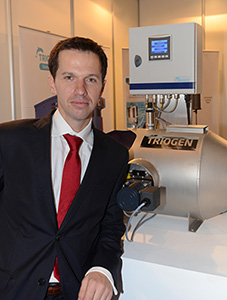 Bertrand PONS
"Triogen, founded 30 years ago, is a pioneer in the design and manufacture of ozone and ultraviolet water treatment systems and has many "firsts" to its credit. This alone tells us much about the creativity and the agility of the company.

Triogen is known worldwide as an innovative UK manufacturer of precision engineered products for leisure (swimming pools, water features, water parks, zoos, ...) and aquaculture water treatment applications (fish farming, aquariums). Our success has been built gradually thanks to our innovative, reliable and high quality range of products. These are a precious asset we have to leverage for the future, which will enable us to differentiate ourselves in more and more competitive environments.

We are a truly international firm, open to the world, who have supplied technologies to most of the countries across the globe, always keeping in mind the aftersales services we can provide to ensure customer satisfaction.

I joined Triogen because I immediately felt that this company was a group of passionate experts who all had the same priority, the Client. Enthusiasm, professionalism and innovation are the values we bring to the market.

Our network of business partners shares the same values. They are an integral part of our strategy, the guarantee that our clients will be able to access the best technology and the best support, the insurance that we will be able to understand and anticipate future needs.

My aspiration is to be a member of this tremendous team and to help the company to achieve a new level of excellence. I undertake this ambitious goal in all humility.

I commit to keep client satisfaction as the central value in Triogen and this will be our landmark for the future and the key to our success."