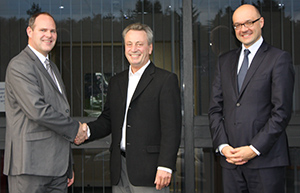 From the right to the left : Tom Kelly New MD,
Jim Wheatley Previous MD,
Eric Dehouck, CEO of Degremont Technologies
Ozone and UV specialist Triogen has appointed a new managing director with effect from 1 January 2014.

Tom Kelly succeeds company founder Jim Wheatley, who has retired after more than 30 years at Triogen.

Tom began his career with Yarrow Shipbuilders and is a qualified electrician, draughtsman and design engineer. He joined Triogen in December 1990 as an electrical design engineer and has progressed through various positions in the company, being the technical director for the past four years. He has a BSc and BEng (Hons) in Electrical Engineering.

Eric Dehouck (right), CEO of Triogen parent company Degremont Technologies, attended an official meeting at Triogen on 9 January at which Jim Wheatley (centre) and Tom Kelly (left) shared the traditional Scottish "Quaich" signifying the handover.