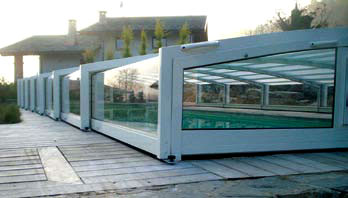 A modern design and low visual impact, thanks to vertical stiles joint by a lowered segmental arch, are the aesthetic peculiarities of this structure.
Despite the quite thick profile our enclosure doesn't look bulky thanks to the heat bent polycarbonate which gives a transparent look with no visible joints between roof and wall, perfectly integrating inner and outer space.

The Ecopratic Plus enclosure is characterized by an extruded profile made out of aluminum alloy 6060 UNI 9006-1, which provides a better wind/snow load resistance and allows the covering of larger surfaces. The chassis has a 94mm depth, with flutings for hollow polycarbonate and gaskets.
Balloon gaskets between the enclosure's bays provide a better airtight and watertight insulation, preventing dirt on and in your pool and creating a perfect "greenhouse effect".
The enclosures slides easily on crushproof wheels thanks to an innovative bays' linking system, with no tracks needed whatsoever.
The enclosure is provided with custom molded fixing brackets, giving a better and more personalized look than the standardized ones.