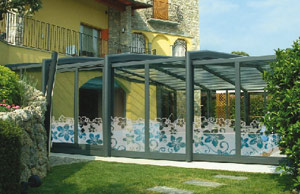 A. di Arcobaleno, thinking about new ways to innovate and answer customers wishes, proposes four patterns in order to allow a complete customization of swimming pool enclosures. An original idea, enhancing the value of a shelter.

It is possible to dive through Urban environments, a pleasant immersion in fantastic dreams or in a floral decoration set, or get swayed by a thousand water bubbles.
The proposed patterns, named
POLIDéCO
, are made out of durable materials, which guarantee a wonderful chromatic effect in shade and splendid luminescent reflections when they get hit by the sun.