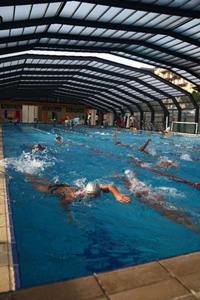 The A. di Arcobaleno brand now belongs to a new company: EOS Srl, founded with the precise aim of reinforcing the brand on the Italian and foreign markets, setting up the necessary organization with new financial support and human resources. The new company is comprised of the Chairman and CEO, Roberto Cavallo, Sales Manager, Ettore Giusta and Roberto Orsi, the Technical Manager.
The main objective for the foreign market is to create a network of distributors in each European country, developing the current sales organization already in place in France, the UK, Spain, Belgium, Austria, Switzerland and Scandinavia.
In order to back up this program, the company is gearing up by producing marketing tools designed to make the task of selling easier to retailers, including new design brochures, exhibition corners, advertising signage stands and sales cases .
The company has considerable experience in the field of covers for large-scale public pools compliant with CONI and FIN Italian standards.