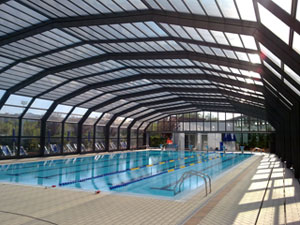 The structure is in the town of Ovada - AL, in the Geirino Locality, and it is a large-sized telescopic cover ("Double Energy" model) to enclose a public swimming-pool of 12,50x25,00 m. The finished cover consists of 8 sliding modules and 1 fixed module giving a total external size of 22.00m in width and 39.50 m in length.

For the support and movement of the sliding modules, a system of guides has been designed and constructed using suitably sized extruded aluminium rails positioned as a set under the floor; inside this guide system support trolleys run with fixed and adjustable wheels so that movement can be optimised.

This system is wholly innovative, and it is very practical and completely safe, since it does not take up space on the finished floor.

The trolleys that run inside the rails can easily be disconnected from the modules, so that they can be taken to an "off rail" area and put aside for any necessary maintenance work to be carried out or to allow any damaged parts to be replaced.

On the end sections of the cover, the first and the last module, the closure walls have been constructed, one of which is fixed and the other has a folding sliding door. Like the main structure, the walls are also made using aluminium profiles and transparent polycarbonate curtain walling.