The fruit of the innovation of T&A teams, the Quadro pool shutter slat combines 4 benefits: an anti-algae profile, inconspicuous condensation, optimised heating capacity and a built-in anti-UV layer.

Pool covers with heating capacity and no visible condensation
The result is a high-quality slat that perfectly matches modern trends and meets market needs, enabling the reduction of pool water evaporation, longer preservation of water temperature, reduced shutter maintenance and a prolonged life cycle.
Its major advantage is its SIF (Selective Infrared Filter) technology patented by T&A, i.e. a selective solar spectrum filter. This latter dissociates UV rays, visible and infra-red light, thus optimising the absorption of solar energy in the infra-red zone, giving the slat above-average heating power while masking the usual unpleasant condensation over the entire shutter.
Moreover, the anti-algae film on the slat connecting chambers makes it opaque, thus preventing the proliferation of algae, and the anti-UV layer slows ageing.
The Quadro slat comes in Black, Titanium and Gold and is covered by a 3-year warranty.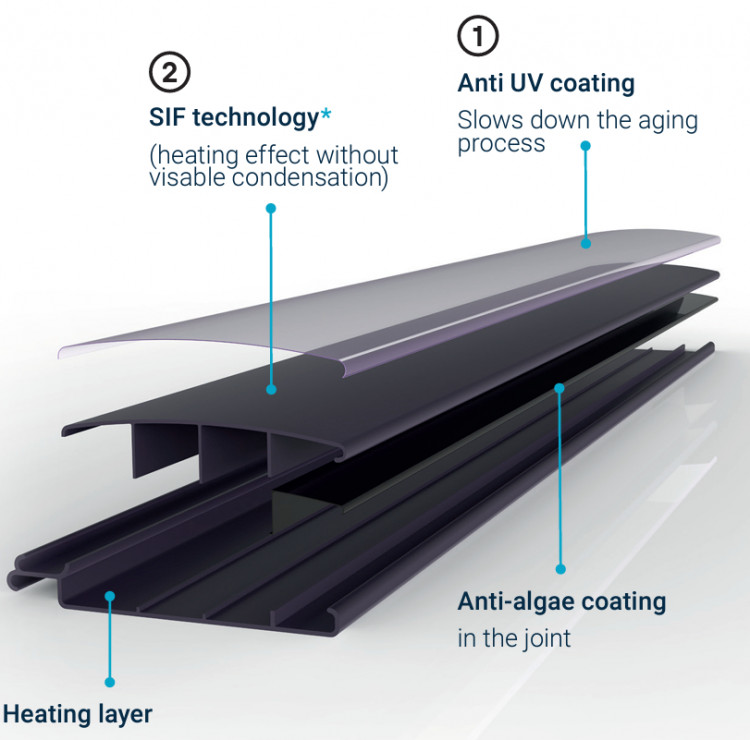 Anti-algae profile and anti-UV layer of the Quadro slat