A new chapter is opening up for T&A in 2022, while at the same time marking a resounding success and celebrating the 10 years of Joeri Dils as the group's General Manager. This year, Technics and Applications acquired 3 well-known companies on the swimming pool market, reinforcing its status even further as a swimming pool cover specialist.
We interviewed Joeri Dils to discuss these 3 latest acquisitions of Aquacover, Covrex and Walter Piscine (Walter Pool). Humbly and with a determinedly positive attitude, he explained T&A's human and coherent projects to us.

Developing the swimming pool equipment of the future
Joeri, having been at the helm of T&A for 10 years, we could say that you have brought plenty of change for the group?

We have greatly developed exports since 2005 (editor's note: the date of his arrival at T&A) primarily on the Benelux market, but also on other markets going back 10 years: markets in German-speaking countries and France, thanks to Fabien Ulpat, who is based near Avignon. Following these recent acquisitions, Fabien is going to take over sales operations in France, supported by 3 sales agents, an internal T&A after-sales team and a technical support team.
We now have a presence in over 20 countries, with the main markets being Europe and in particular the Benelux countries, but also the United Kingdom. We are also currently developing our presence in eastern European countries and, to a lesser extent, in Israel and the Middle East.
As innovation is part of the group's DNA, our work is also heavily focused on high-end products: polycarbonate slats and solar slats, with great new features on the market.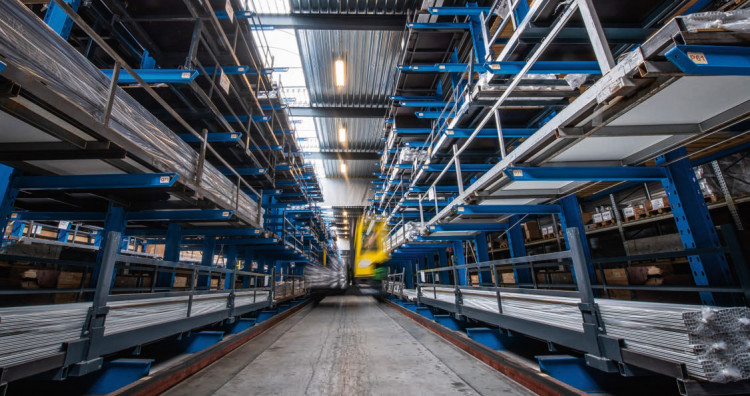 Storage of swimming pool covers at the T&A site in Geel, Belgium
This year, T&A completed 4 company acquisitions, 3 of which are well-known on the swimming pool market. Could we say that it is an ambitious strategy for T&A to cover the entire range of swimming pool covers?

In fact, before these 3 more high-profile acquisitions, T&A also acquired a small Belgian company this year - Morgana Floor - which has been making movable pool floors for 10 years. We are very interested in this product and we will continue to work with the engineer behind it (Mr Moortgat) so we can now develop the larger scale marketing of this highly technical, high-end and tailor-made equipment. We will also handle the installation of the Aquafloor Comfort and Aquafloor Premium mobile decks.
With these 4 acquisitions, T&A is gradually covering all segments of the swimming pool cover market. Each of these recently acquired companies has its own specific strengths: Aquacover, with its tailor-made coversfor projects of private customers but also public pools.
Covrex, with the Covrex Classic patented insulating solid slat (editor's note: it has a strong insulation coefficient, can withstand hail, extreme weather and features flexible intersections so it does not get clogged up).
Finally there is Walter Piscine with its bar safety covers, summer/winter covers and moveable deckings. With the ranges offered by T&A, we are trying to provide a sufficiently comprehensive offer.
However, it is not only about us providing a large catalogue of products, but above all, it is about thinking of the future swimming pool, which we want to be as economical and environmentally-friendly as possible. The current situation can only encourage us, as a manufacturer in the swimming pool sector. Insulation is an essential part of an ethical swimming pool, providing better heating for the pool while consuming less energy. Our ambition even goes beyond covers by offering, in the medium-term, other equipment that consumes the least amount of energy possible, in order to reduce the energy bill of households that invest in a swimming pool, both in terms of equipment and annual maintenance costs.
As Chairman of the Belgian Federation of Swimming Pool and Wellness Professionals, you are twice as involved in this process...

Absolutely! Over the last few years, swimming pools have become more available to the public, in their affordability, but soaring energy and raw material prices, as well as environmental issues, mean that certain people have started to speak out against swimming pools, wrongly seen as a "huge consumer of water and energy", etc. It is our task as manufacturers in this supply chain to take things into our hands now, thinking about and working on the development of energy-saving products, reassuring future buyers and getting ahead of future swimming pool regulations to be brought in. Swimming pool covers are part of this equipment we are working on here at T&A in this sense, bringing the additional benefit of safety. The uncertainty facing energy resources is encouraging us to work quickly in this sense, so we can provide a coherent offer that will restore swimming pools' image.
On the one hand, savings have been made possible for swimming pools by installing energy-efficient equipment, but also equipment that limits the loss of energy. Covers play an important role here. We must think about swimming pools differently and the T&A group is very interested in all technologies in this sense (home automation, solar power, etc), with tailor-made products if possible, manufactured in Europe and benefiting from a local after-sales service. This could also involve other equipment than covers for future investments. This is part of our strategy.
Are these the values that you found with Aquacover, Covrex and Walter Piscine?

Indeed. Wide-ranging tailor-made features are one of the strengths of Aquacover, as well as the quality of service, including on-site installation. The proven experience of Covrex® and Walter Pool is another benefit for the group. Innovation is important at Covrex, just like it is at T&A. Another one of Covrex's strengths is linked to the markets where T&A did not have a presence and so we can now benefit from them (Australia, New Zealand, Chile, Canada and Dubai). As for the Walter Piscine company, it develops high-end products with its strong technical know-how. We actually find we have common values, with complementary expertise within the group, which allows us to become experts in swimming pool covers on all levels.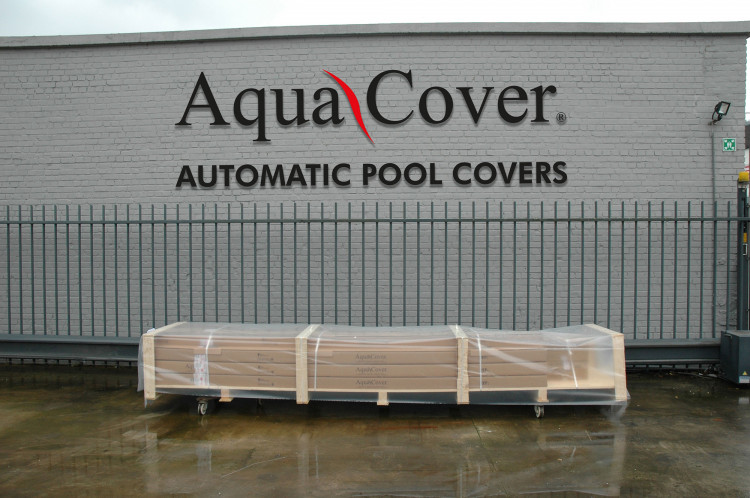 The Aquacover site in Andenne, Belgium
With these acquisitions, T&A's total production capacity is now how many units?

Our capacity is currently more or less 10,000 covers per year, but we have invested in a production line, in Geel, at T&A's headquarters, which will be operational within 2 to 3 months. It will help us to cut and weld cover slats by ultrasound. Our production capacity will then increase to 15,000 covers per year.
How will T&A's general organisation change with these 3 additional companies? Will each one keep its internal services? Will services and production sites be shared?

We will keep the Aquacover production site in Andenne, in Belgium, as well as the after-sales service and the offices. The Covrex production site, currently located in Aarschot (Belgium), will move to Geel. Another benefit we will be able to enjoy is Covrex's highly automated stainless steel workshop, Covrex South, also located in Aarschot. It is equipped with robotic cutting and welding machines and stainless steel press brakes, etc. It will make us more independent in terms of manufacturing and more responsive and faster while giving us great flexibility.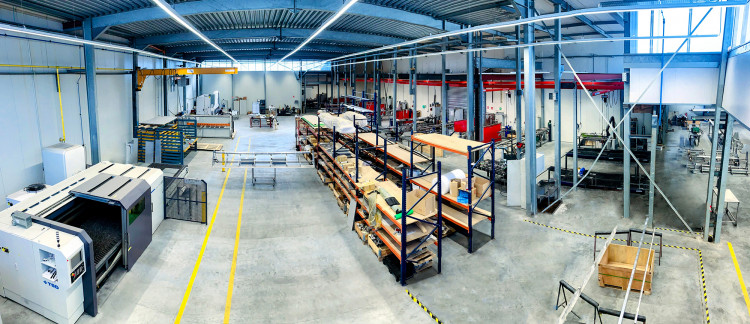 The Covrex North stainless steel workshop in Aarschot, Belgium
As for the Walter Piscine site located in France in Brumath, in 2023 we are going to move from its premises to invest in a larger on-site venue, again with the perfect proximity to the German market. The idea is to put the cutting and welding machines over there for bar tarpaulins, winter and summer tarpaulins, etc, and to add other production lines as well.
Walter Piscine is very well-established in France, where up until now T&A only had one sales representative, Fabien Ulpat. He will now be able to benefit from the support of 3 additional people in France.
The sales service is shared by the T&A group and we are in the process of training all the teams, thanks to the know-how and experience already in place at each of these companies. This is why training will be a key objective this autumn-winter to train our sales agents in the entire expanded range of products.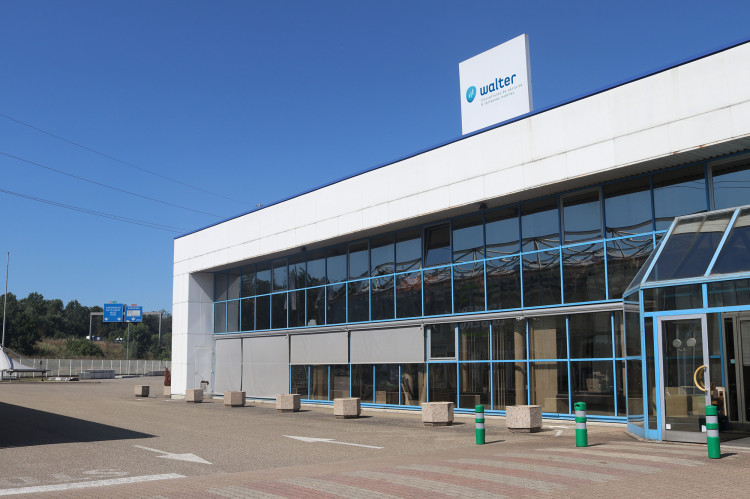 The Walter Piscine site in Brumath (Alsace)
Will you keep the 3 brands?

Yes, for now. The main goal is that dealers can continue working with the brands they already know, while keeping the same in-house colleagues if they wish. Then later on, a more representative name for the entire group will be chosen. First of all, we wanted to simplify this transition for our partners. What changes for them is a much more extensive offer within the T&A catalogue. Shared internal services (orders, logistics, after-sales, technical support, etc) will probably gradually happen in 2024.
We have also decided to exhibit at 2 stands side by side at the Piscine Global trade show: one stand including T&A and Aquacover, and one stand next door with the Covrex and Walter Piscine brands. Our partners will, of course, find products from the 4 brands at each stand.
With so much happening right now, what can we hope for from you in 2023?

I hope that the market will settle down a little. I want us, as manufacturers in the swimming pool sector, to be able to restore confidence to private consumers regarding the costs of swimming pools and their environmental footprint. I hope that our industry is going to work in the same direction to make this happen.