Polycarbonate, anti-algae and solar blades

Launched on the market three years ago, these polycarbonate, anti-algae, solar blades from T&A are produced using tri-extrusion technology.
A resistant new profile
This new profile, which is highly shock resistant, reduces the formation of algae to a minimum and enhances user safety.

As well as its high-performance insulation, the blade also has a superior heating power of U = 3.8 W/m²K. In addition, UV rays are blocked in the blade connecting chamber by a completely opaque wall, which limits the proliferation of algae due to the sun's rays.


The manufacturer wanted to put these new blades to the test to demonstrate their performance by commissioning an independent Swiss laboratory specialised in determining resistance to hail based on very precise criteria. The tests consist of propelling an ice ball using a launcher in order to determine points of vulnerability.
The results were gathered based on 3 specific criteria: water-tightness, mechanical resistance and how it looked after the impact. It emerged that the T&A blade remained perfectly intact when faced with 3-cm wide hailstones and its mechanical resistance supports hailstones up to 5 cm in diameter, which is bigger than a golf ball!
Performances and modern design
Another feature of this new 67.5-mm long and 16.5-mm thick blade is its buoyancy, which is 25% greater than a standard blade.

In addition to its technical qualities and version with high heating power, the Look Alu version has a highly attractive design to fit the aesthetics of modern pools with sleek lines. In terms of installation, it also provides time savings with clip-on or sliding assembly.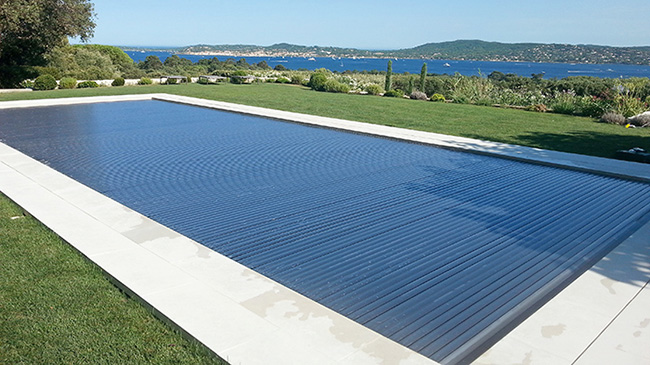 Look Alu Version

The company wants to innovate and systematically focuses on the weaknesses and long-term performance of its products. This is why it has recently invested in updating its automated and high-performance production line, which can produce a cover blade in under 12 seconds. The sealing of the plugs also uses advanced technology which provides instant sealing by ultrasound, without any drying or visible traces.