The new version of AstralPool's VICTORIA PLUS SILENT VS self-priming pump includes variable speed control box with a control screen that can be installed on the pump or used remotely..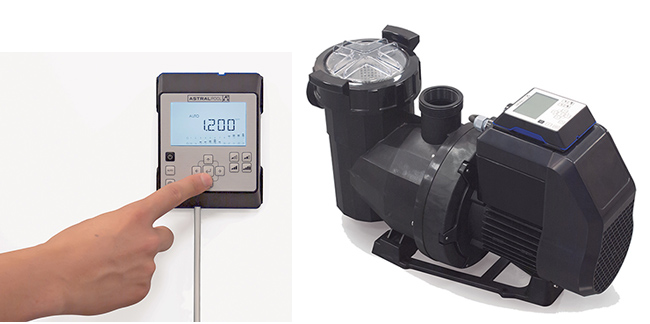 The pump can be controlled from the control box and, in particular, be used to programme the desired speed according to a personalised programme or to select a pre-set programme (speeds: Low, Medium and High).
Among the latter is a programme specially meant for booting up and operations requiring high flow rates.
The control screen allows the user to set programmes for the week and view energy consumption and savings.
For ease of maintenance, the pre-filter cover of the pump has two handles, and does not require a key to remove it.

The pump body is made of polypropylene, resistant to high temperatures and humidity. Its motor, IP55 protected, enables high-speed operation with a noise level of only 61 to 66 dB.

Very easy to install and use, this pump is suitable for all Victoria models. It is compatible with the mobile application Fluidra Connect which one can use to control the pool.

The new Victoria Plus Silent VS is available in 1 or 2 HP versions (flow rate from 5.8 to 25.8 m3/h depending on the selected power and operating speed). It comes with a 3-year warranty.