The value of Inverter technology in pool heat pumps is now well established: optimized efficiency, noise-free operation at low speeds and energy savings, among others.
In this category, AstralPool offers the EVO-TOP INVERTER, a range that is able to operate when outdoor temperatures are as low as -7° C for heating/cooling pools of up to 130 m3.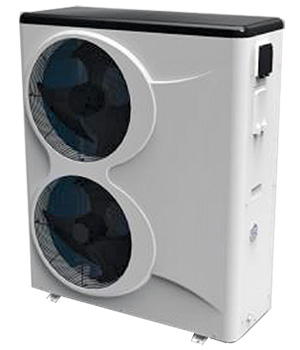 These reversible heat pumps offer 3 operation modes.
In «Silent» mode, the temperature is maintained using the low-speed function; «Smart» mode is intended for daily use, and the «Powerful» mode boosts heating/cooling in extreme weather conditions or at the beginning of the season.
The heat pump has a soft-start drive without any peak intensity of its compressor which translates into longer life for its components.

An automatic mode for maintaining a stable temperature is also available.
Ideal for covered pools, it allows the heat pump to self-adjust the mode, depending on the changes in temperature (when heating or cooling) and according to the user-defined set point.
The EVO-TOP INVERTER automatically switches to a higher mode when there is a 2° C temperature offset between the set point and the actual water temperature. For the convenience of the user, the control panel with display can be moved around thanks to its 10-meter cable.

Lastly, another advantage of this range of heat pumps is that installation is easy, thanks to the electrical connections accessible from the exterior, as also the side grips to facilitate their handling.