Piscine Laghetto by AstralPool launched at the Piscina & Wellness Exhibition in Barcelona three top-of-the-range above-ground pool models, which are characterised by an elegant design and the technical quality of AstralPool Products.
Dolcevita: elegance and high quality materials
Elegance and technology come together in response to the demand by general public more and more interested in italian design for gerden furniture.
Available in three models, Dolcevita is made of very high-quality materials: Diva and Rattan have an exterior finish of synthetic hand-woven fibre on an aluminium frame available in white, grey or coffee colour. The Rattan model also has an eco-wood edge that gives the Dolcevita pool an even warmer and natural touch.
Finally, the finish of the Woody model, with its elegant hand-woven wicker panels treated for outdoor use, makes this pool a piece of home furniture totally in tune with the surroudings in which it is installed.
Dolcevita is extremely versatile: it can be assembled and disassembled in very short time and is even ideal for spaces that only have room for temporary structures for seasonal use.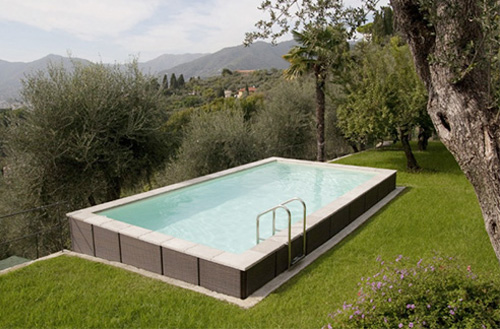 Dolcevita pool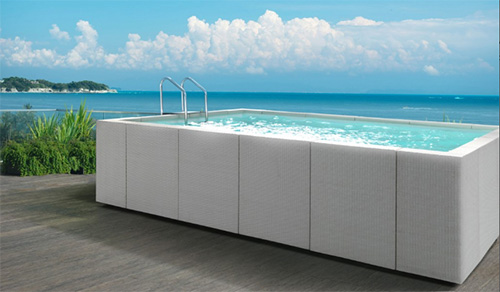 Dolcevita pool
Playa: perfect in a corner of any home
This hydromassage mini-pool has an elegant design that fits any environment.Its hand-woven wicker panels, available in white, coffee and grey, and the area for lying down in matching colours, make it a piece of furniture that is suitable in any corner of the garden, the terrace, the living room or the a bedroom.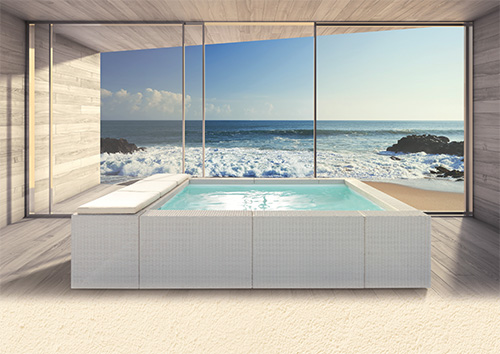 Playa in white model
POP!: funny shapes and colours!
This pool comes in a fun shape and colours: smooth, wavy curves and colours inspired by a fairy tale, such as butterfly purple, ladybird red, caterpillar green, star white, sea sand and fairy blue. A plunge into fantasy with top quality and technology: the PVC-coated polyester fabric, completely waterproof, has passed all tensile strength tests in compliance with the strictest and most rigorous standards, and it is treated to be highly resistant to the harmful effects of UV rays for the longest possible service life.
The engineers at Piscine Laghetto have designed exclusive white foot blocks so that the pool remains stable wherever it is placed. Moreover, POP! can be quickly assembled and disassembled, and no planning permission is required for its installation.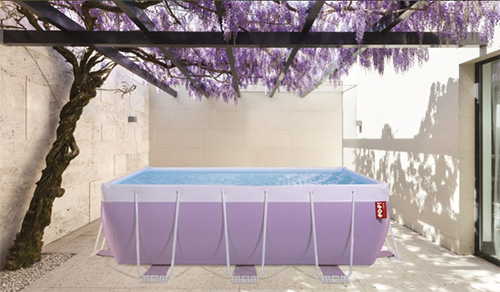 POP! in a butterfly purple model