Golden Coast has expanded its range of SPECK pumps for commercial and residential pools of all sizes. Those latest additions was revealed at SPATEX, including the whisper-quiet BADU Gamma range. Its improved hydraulics with optimised water flow offer efficient performance, while its optional inner/outer threads offer installers absolute flexibility.
A highly efficient variable speed model (BADU Gamma Eco VS), which can be controlled remotely with BADU Eco Logic, is also available. Golden Coast's extended range from SPECK includes a number of low maintenance options.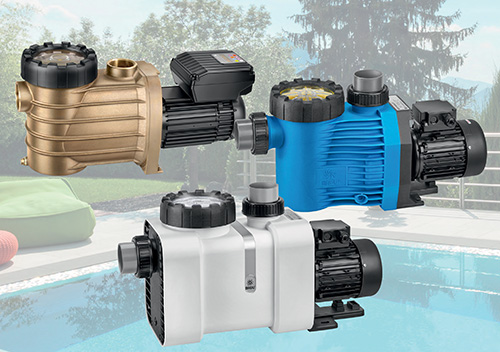 The BADU Delta range, for example, benefits from a maintenance-free motor that utilises high-performance ball bearings and a stainless steel motor shaft.
For those looking for the ultimate in corrosion resistance, there's the space-saving BADU Bronze range, which is made from a high-quality bronze alloy - free from zinc and lead additives – a variable speed model (BADU Bronze Eco VS) offers high-efficiency performance.

The very quiet and efficient BADU Profi, the world's first seal-less swimming-pool pump is present in this new catalogue too. Its innovative contactless magnetic coupling makes maintenance/leak issues associated with mechanical seals a thing of the past.

Where ease of use and comfort are concerns, there is the variable speed BADU Eco Motion. This high-efficiency package is easy-to-use, thanks to intuitive touchpad controls and serial interfaces.

Golden Coast has extended its BADU EasyFit range with the addition of BADU EasyFit Eco VS. The variable-speed model adds to the range's exceptional installation flexibility with the energy efficiency of the 90 Eco VS: the ideal choice for those looking to replace or upgrade existing pumps. Thanks to adjustable feet and adaptable plumbing kits, and is fully compatible with the major brands— eliminating the need for expensive re-plumbing.

Golden Coast Managing Director Jamie Adams says: "When it comes to adding value to a new or existing pool, the right pump can be a real game changer… And nowhere is that truer than with SPECK pumps. Not only are they built to an exceptionally high standard, they are outstandingly engineered to meet the customer's goals – whether that's reducing maintenance, slashing fuel consumption or making it easier to run. And, they help you meet your own goals, too, thanks to ease of installation and protected pricing on select models. "