Golden Coast has just added Ultralift and Visionlift cover lifters to its Essentials Collection hot tub accessories. This comprehensive range of mounting options brings a perfect fit to the spa, regardless its size, shape or brand.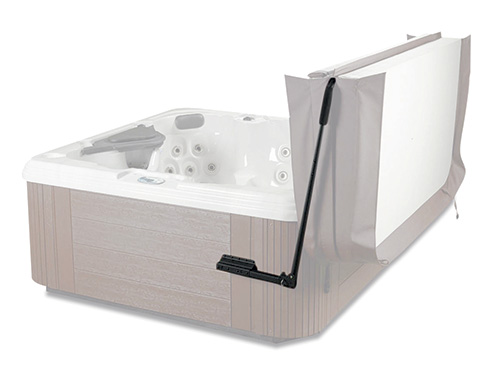 Ultralift cover
Golden Coast director Dominic Adams explains: "They really have all bases covered. While 'standard mount' lets you adjust the open cover height to your preference, the 'undermount' option lets you avoid drilling holes into hot tub surround. There's also a 'hydraulic mount' option available. It's gas-spring-assisted for effortless opening and closing."
Designed with installers in mind, the new range allows for more efficient and trouble-free working. Dominic explains: "We were impressed by how quick and easy it was to fit. Its patented sliding mounting brackets, for example, make it virtually impossible to make a mistake. Installation takes less than an hour and all you need is a drill, screwdriver and adjustable spanner."
| | |
| --- | --- |
| Ultralift cover | Visionlift cover |
Visionlift is another new addition to the Essentials Collection. Its design allows tub users uninterrupted 360-degree views without having a cover in the way. "It's the perfect choice for tubs in scenic surroundings, such as holiday lets, where you want users to be able to take it all in," adds Dominic.

These lifters are available exclusively through Golden Coast Dominic explains: "Our comprehensive range of lifters can offer significant savings in like-for-like comparisons. But, unlike some competitors, customers can purchase in sterling– avoiding the uncertainty of purchasing in dollars and waiting for the statement to come through to tell you how much it really cost…"