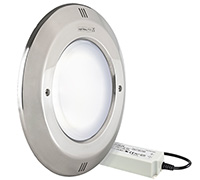 AstralPool introduces its new range of LumiPlus DC PAR56, the result of the advances made in LED technology.
In addition to a reduction in electricity consumption, this latter enhances energy efficiency, as well as the diffusion of light.
To ensure the first improvement LumiPlus DC PAR56 is equipped with an optimized state-of-the-art circuit board to achieve a power consumption of 14 W only.
Furthermore, the 16 W transformer normally used can be replaced by a power pack that only consumes 3 W.
Thus, the lighting delivers a 95% energy saving in comparison with conventional or halogen lighting.
Fluidra also announces a reduction of energy consumption by 47% in comparison with other LED luminaire in the market.
In order to fulfil its promises in savings, the device is only compatible with the AstralPool power pack, which allows converting 230 V AC to the 24 V DC (nominal voltage) that feeds the new LumiPlus range.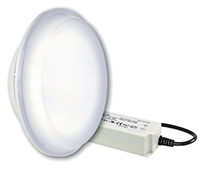 Another improvement is the better quality and distribution of light, thanks to TQL technology (Top Quality Lighting), with the new design of the lenses. Thus, the light does not cast shadows or light spots, making it a differentiating feature.
The range includes a white lamp and spotlights in V1 & V2, in white ABS and stainless steel finishes, and protection rating IPx8.

LumiPlus DC PAR56 V1 provides a luminous flux of 1,485 lm when consuming 14W and LumiPlus DC PAR56 V2 up to 4,320 lm with a 32W consumption.

Discovered at PISCINE GLOBAL 2016 in LYON