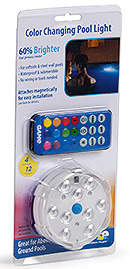 Pool and spa mood lighting kit
Golden Coast is broadening its "Essentials" collection of products dedicated to spas and their maintenance. Several innovations complement the catalogue this year.
With regards to security, the 365 cm long and 5 cm wide propylene Secure Strap XL now solidly secures spa covers, thanks to a durable fixation kit and solid buckle.
The Cover Cap is easily installed to protect the spa cover when it remains unused for a long period of time and is exposed to harsh weather conditions.
Intended to maintain and preserve the spa shell, the Life Magic Foam is a sponge for removing dirt and stains, including limescale, moulds and scum, without having to use additional cleaning agents.
It can also be used on outdoor furniture.
AquaChek White is also a new addition to the water treatment department.
Small strips are used to test water salinity levels in cases of salt electrolysis; whereas AquaChek TDS is a tool to analyse dissolved solids contents in water within seconds.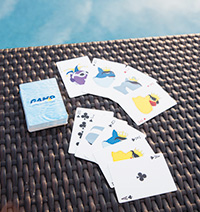 Waterproof cards
To create atmosphere in the spa, the Game Colour Pool Wall Light brings advanced mood lighting within everyone's reach, with 16 colours and 4 lighting sequences.
To complete the spa session, the Spazazz aromatherapy product line, designed to soothe body and mind, now includes Water Therapy elixirs. These natural plant extracts are mixed with vitamins and minerals to create a relaxing atmosphere.
Finally, we can now also relax in the spa while playing cards with the Game Waterproof Playing Cards, 100% plastic waterproof playing cards!