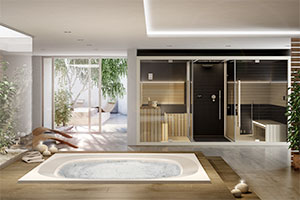 Jacuzzi® presents its latest spa designed for intensive use. Ideal for hotels, gyms or wellness centres, this spa for 6 persons offers hydro-massage in a progressive sequence.
The experience begins when one enters the tub with a massage that stimulates circulation and relieves the lower joints.
The second seat offers a gentle back massage, especially the shoulders and lumbar area.
The hydro-massage then becomes more intense and energetic on the third seat, muscles are activated, circulation is stimulated.

During the fourth step, the hydro-massage stimulates all areas of the body with maximum power.
The intermediate phase is perfect for loosening up and relaxing muscles. On the next seat, the hydro-massage is more soothing, the muscles relax, and fatigue melts away. Then the lounger offers total relaxation.

The spa is available in two versions: Top with 38 massage jets, and Base, with 18 jets. Find out all the details online.