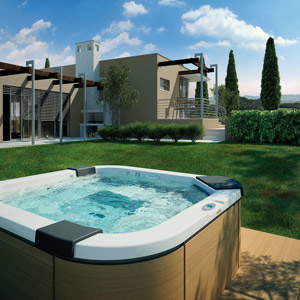 The Research at Jacuzzi® has developed an ultimate version of the spa, a convergence of utter comfort and absolute relaxation, designed to awaken all the senses ...
To users of its
2 reclining and 3 upright seats
, it offers a complete massage of the whole body. While the feet get special attention and stimulation,
5 jets for the back
relieve tension in the neck and
two rotary jets massage
the hips to fight
against cellulite
.
The senses of smell and hearing are also sharpened with a
diffuser of essential oils
and an audio system with its harmonious soundtrack. Everything is designed to provide a total
sensory experience
.
All the
Jacuzzi®
patented
hydrotherapy technology
is combined with the use of noble materials, in sober and contemporary lines, with carefully studied ergonomics and control panels made as simple as possible.
Jacuzzi®
, the inventor of the whirlpool bath, has concentrated all its knowledge and expertise in this new spa with a choice of either stand-alone or built in.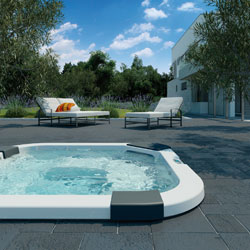 Technical features


- length:
230 cm
- 29 jets
- width: 215 cm
- waterfall
- height: 90 cm
- base: 7 cm
- shell self-draining
- essential oils diffuser
- net weight: 400 kg
- Possibility of building in on the ground
Colours ⇒ tank: white
Cabinet ⇒ teak or seamed oak