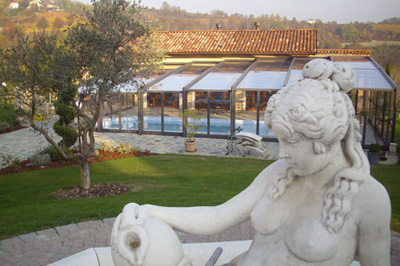 The lean-to shelters from A. di Arcobaleno have a wall-mounting system, fitted with sliders on the section fixed to the wall, and glide easily thanks to their undeformable wheels.
They do not require ground rails. One of these shelters, the Energy 170, installed in Bastia recently, is constructed with profiles in aluminium, and polycarbonate - honeycomb-shaped for the roof and transparent for the facades.
The shelter can be opened/closed quickly as needed as the modules are easily manoeuvrable. With its functional sliding system it did not require the installation of a motor in spite of the impressive size of the shelter.