The leading innovator in the home spa industry announced a fourth model in its Aquatic Fitness Systems line of underwater gym/swim spas – the smaller, more versatile AquaSport, offering a compact AFS option with the best features in its class.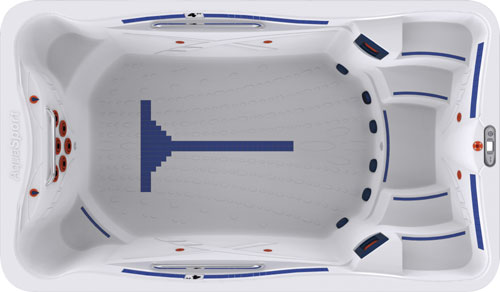 Called the AquaSport, the new smaller fitness-oriented swim spa offers the following features: the largest swim lane in its class; a Duratex shell that will not crack or blister, even in direct sunlight; a built-in exercise step and exercise bars; equipment for resistance moves; and a D1 patented ozone water management system.

The company says that the AquaSport is designed to address the consumer trends of: older people looking for low-impact, joint-friendly exercise options; home-based exercise as rehabilitation from injuries and illness; and consumers downsizing from in-ground pools.

"The new Aquasport is really health in motion", explains D1 Senior Designer, Victor Walker. "It allows people of all ages to experience the benefits of aquatic exercise."

DIMENSION ONE SPAS received Top 100 award in the category Fitness , at Piscine and Aqualie 2012 on Tuesday 13 November for the AquaSport 13, a highly versatile swim spa. It has a wide base area for countercurrent swimming, allows a broad range of movement and is compatible with a variety of exercise routines.
Reed the article : Piscine and Aqualie 2012 awards click here