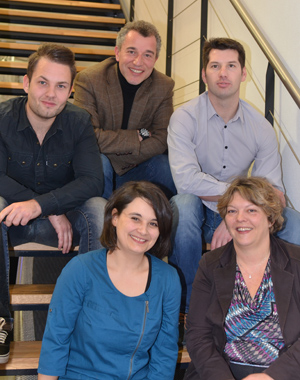 From left to right above : Gaëtan VARLOTTA,
Frans LUIJBEN, Christophe LEFEBVRE
and bottom : Solène ROUDAUT and Marie-Eve HEINKELE
Frans Luijben, Vice President, International Sales & Marketing of Dimension One Spas has defined its primary objective for the 2014 season: generate as many « leads» as possible!
To this end, the company has recruited Gaëtan Varlotta for the post of Digital Manager, reporting directly to the manufacturer.
«We will concentrate all our efforts on enhancing the dealers' pages on the site, www.d1spas.fr, and other European sites.
We are viewing it from the angle of corporate identity, where we will follow best practices in digital communications.
In addition, the recruitment of a new Sales Representative is also underway; Christophe Lefebvre joined us as Sales Rep, to lead and energize our network; Marie-Eve Heinkele as head of administration and marketing for inside sales, and a new Technical Manager Europe, in the person of Robert Broenimann.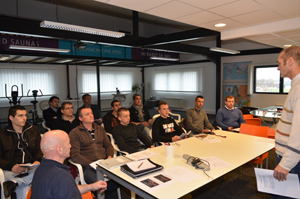 Meanwhile, we are intensifying our training seminars, with a purely technical oriented training for technicians and after-sales service staff, and specific product training.
Training courses in «Sales techniques" have also been organized. Effort will be focused on developing training in Centres of Excellence to build on our local presence.»