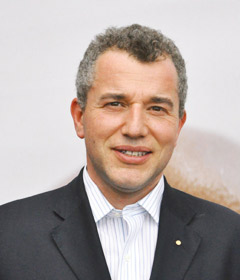 Frans LUIJBEN Vice-Président
International Sales & Marketing
Frans LUIJBEN, Vice President, International Sales & Marketing of DIMENSION ONE SPAS, has defined the primary objective for the 2015 season: "To generate as many leads (Ed: qualified contacts) as possible and help our spas & Aquafit dealers to convert them into sales".
Along these lines, the company recruited Myriam NASSEH for the position of Product Manager Aquafitsystems, and Gaëtan VARLOTTA for the position of Digital Manager, reporting directly to the manufacturer.
He adds: "We are focusing all our efforts on channelling qualified leads to our dealers, through www.d1spas.fr and www.aquafitsystems.fr and other European sites. We are fostering the notion of a corporate identity, through which we will adopt best practices in digital communication.
Furthermore, Christopher LEFEBVRE, who joined us as salesperson to animate and boost our spa network, is in charge of monitoring the dealers' businesses. Our business is growing and that is why our structure is following the movement. We wish to remain a microstructure, and this demands sustained discipline on our part.
In parallel, we are increasing the number of seminars for our dealers, with purely technical orientation training for technicians and after-sales services, and product-training that is quite different. "Sales Techniques" courses have also been organised.
These efforts will be focused on the development of Centres of Excellence Dimension One Spas, to be able to live up to the image of the outstanding products we represent".

The Centre of Excellence concept

A Centre of Excellence was inaugurated in Rosheim by Frans LUIJBEN in 2013. With a team dedicated to serving professionals, this pilot showroom is accessible and responsive. Its other vocation is to be a true Centre of Excellence dedicated to technical and marketing training for French retailers and European distributors.
To become a Centre of Excellence, dealers have to meet quality standards in terms of representation of the brand, with a representative display of products and customer service that meet the expectations of the manufacturer.
These Centres of Excellence work closely with D1 France to be as highly qualified as possible to advise private individuals on their well-being projects.