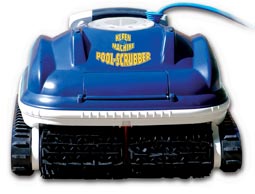 Available since spring 2009 from Smartpool, Kleen Machine robotic pool scrubber offers high quality performance for an affordable price.

This inground pool cleaner will clean, vacuum and scrub the entire pool including walls, waterline and bottom.

There are many new patented features that make it one of the most advanced and simplest robots: a revolutionary cleaning program 50% faster when cleaning walls and floors, intelligent navigation which does not require walls to change direction, large intake ports located next to brushes for optimum vacuuming and Super Cord kink resistant cord.

The unit weighs only 4.5 kg, making it extremely easy to remove it from the pool. It can be easily serviced by the pool owner.
* In the United States, this robotic pool scrubber is named "Nitro Wall-Scrubber".
Click here to watch the video