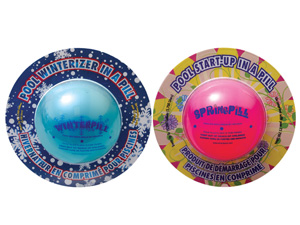 Smartpool innovates with Springpill and Winterpill.
Springpill
is placed in the skimmer where its contents are dispensed into the pool water through the action of the pump.
Springpill
contains enzymes, clarifier, sequestering agents and makes spring openings faster and easier than ever.
Winterpill
floats in the pool water all winter and slowly dispenses a mixture that prevents water ring around pool and destroys the contaminants that make water cloudy and green under the cover.