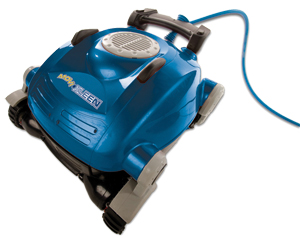 The new Movi-Kleen robotic pool cleaner from the Smartpool company is the latest addition to Maxi-Pool's family of affordable, efficient and eco-friendly robotic pool cleaners.
Its drive and pump motors use a very low amount of energy while thoroughly cleaning and brushing a pool's floors and walls up to the waterline.
This new product comes with a free caddy and an extra-long 18 m kink-resistant cord. It is durable, yet weighs only 3.6 kg, making it very easy to remove from the pool when its cleaning cycle is complete.