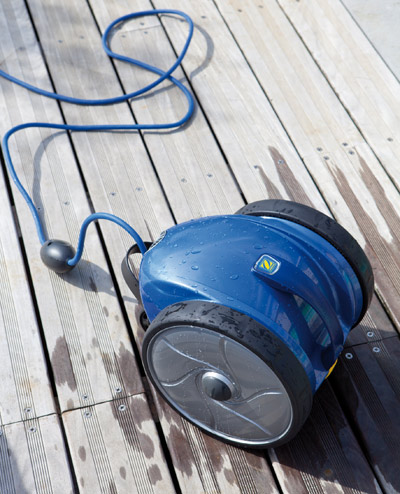 A year after the successful launch of the Vortex™ 3, Zodiac Pool Care announces the release of its new Vortex™ 1. A concentration of innovations for an ultra compact robot with a very original design.
Equipped with the finest technology, the
Vortex™ 1 simplifies pool cleaning to the utmost with its patented cyclonic vortex® action.

It provides an impressive
power of suction
. The vortex generated in the filter places the particles in suspension. The debris does not stick to the filtering walls.
The vortex also helps to scrub the walls of the filter and to "clean" some of the parts.
For all in-ground and above-ground pools (
rigid vertical walls) with dimensions of up to 10m x 5 m.
It adjusts its movement according to the size and shape of the pool.
It cleans the bottom of the pool perfectly and can climb up the sidewalls.
It will appeal to pool owners, especially women, who want a product that is
lightweight, easily transportable and easy to handle, simple to use.