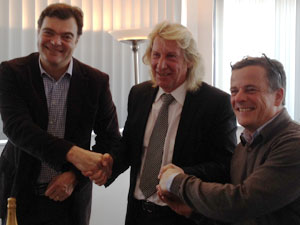 From the left to the right: Kai Lehnert, Josef Schmidt and Jean-Baptiste Clavel
ZODIAC Marine & Pool has agreed to acquire SET Schmidt Energietechnik (SET), a market leader of swimming pool equipment, located in Hemmingen, Germany. Terms of the transaction were not disclosed.
Zodiac is a global leader in the design, manufacture and sale of equipment and accessories for residential swimming pools and spas. Zodiac's technological expertise is reflected in innovative product design, sophisticated manufacturing and constant customer interaction. Its portfolio of high-profile pool brands (Zodiac®, Polaris® & Jandy®) makes the company a recognized international leader in the industry.
High-end products
With the acquisition of SET, Zodiac strengthens its pool care activities in Europe and especially in Germany, where Zodiac Marine & Pool is represented by Zodiac Pool Deutschland GmbH (ZPD).
Zodiac's existing product portfolio will be complemented by SET's premium product range, which is primarily specialized in pool dehumidification products, air duct systems, heat pumps and vapor sealed insulation systems.

SET Schmidt Energietechnik will continue its business as an independent limited liability company, SET Energietechnik GmbH. The position of general manager will be held by Holger Greschner, who has been a senior manager at SET for many years. Joseph Schmidt, the founder, previous owner and general manager of SET will stay close to the company, providing advisory support and helping to ensure the continued successful development of the high quality products for which SET is so well known.
Synergy between the teams of the two companies

Josef Schmidt speaks very positive about the future: "SET got an adequate strategic and strong partner, who will ensure the mutual development and expansion. SET will continue its business as an independent company with Holger Greschner as general manager. My wife and I will provide advisory support and will also be available as contact persons for our customers. Concerning market penetration the merger ofthe companies offers big potentials, especially there are synergies between the internal sales teams and the Zodiac sales force. The internal sales team of SET will be strengthened by using the competent and well trained Zodiac sales force for the whole range of Zodiac and Set products."

Jean-Baptiste Clavel, Managing Director Zodiac Pool Care EMEA (Europe, Middle East and Africa) is also very confident and enthusiastic about the future development of SET GmbH.
"SET is a great company with a fantastic team and an outstanding range of products. I am convinced that the Zodiac footprint in Europe will allow for strong growth of SET's activities for many years to come. We are already leading the French market in the dehumidification category. With the addition of SET we are now also the leader in the German market. SET and Zodiac have a great deal in common: we have the same understanding of our markets, the same will to be the preferred partner of our customers and the same dedication to bringing the highest level of innovation and service to our consumers."

The companies expect the acquisition to be completed by January, subject to the customary closing conditions.
Press release