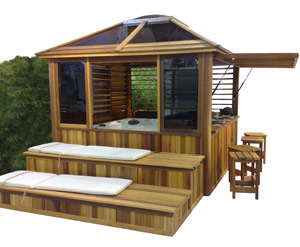 The gazebo makes the perfect complement to a spa, providing an intimate and relaxing space.
In this range, Hydropool present the Venetian Gazebo.
The structure is of
top quality Canadian cedar wood with a reinforced extremely strong roof
capable of withstanding very bad weather.
To be set directly on the ground,
it is very easy to install. The two walls made of wooden slats allow you to play with lighting effects. The roof and the two other walls are fitted with windows in smoked acrylic to make the most of the view surrounding the spa.
The versatility of this gazebo
does not stop there; it also has a
towel drying area and a place where a mini-fridge
can be installed.
The bar adds another touch of conviviality to this space. It can also accommodate
two Relax platforms
fitted with mattresses to become a real haven of relaxation and well-being. Serving as steps to reach the pool, the platforms conceal
a large capacity storage compartment.