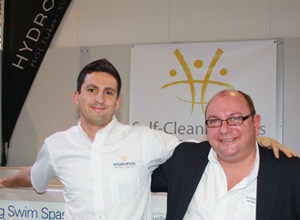 At Interbad, from left to right :
Cédric Noslier, European Network Manager and
Lloyd Burden, UK & Scandinavian Sales Director
Hydropool Spas, the Canadian spa manufacturer, has celebrated its thirtieth anniversary. Since its inception, the company has grown to become one of the largest manufacturers of spas and swim spas in the world. With headquarters in Toronto (Canada), its European operations (storage platforms, technical services, training centres) are organized with France, England, Sweden and Germany as key platforms.
The competitive advantage of Hydropool is to operate with an economic model where the manufacturer is an important long-term economic partner of its resellers. Thanks to its extensive European marketing expertise and the support of an European team that was further strengthened recently in the four European distribution platforms, it offers its partners, the members of its retail network, a sales and marketing success plan to develop their businesses effectively.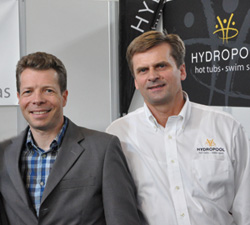 At Interbad from left to right : Stéphane Barralis, VP Sales Europe
Jaro Podkovcik, Central Europe Sales Director
Establishing win-win relationships with its dealers allowed the company to build a strong network of over 240 dealers in more than 40 countries around the world and to maintain a leading position in Europe where its influence goes back nearly 20 years. Hydropool offers 6 series of spas and swim spas that meet the needs and budgets of virtually all categories of customers.
Innovation is the key to its success. In fact, the company is committed to being an innovative leader in the field of spas and swim spas. The emphasis it has placed on research and development has led to several proprietary technologies, giving resellers all the weapons they need to come out winners in their markets. These technologies include, in particular, the Self-clean® self-cleaning system, Thermo Shield® double thermal protection, the «Intelligent massage» concept, and rapid drainage, bringing unique features to the spas of the brand. Hydropool is also looking for partners in some areas.