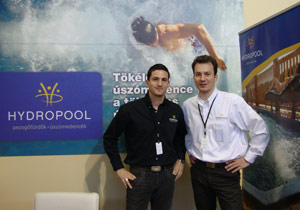 Showing continuous support to its network, Cédric Noslier, European Network Manager for Hydropool Inc, has participated to the 2011 Construma Show in Budapest (April 5 – 10th, 2011) with Hydropool Hungaria Kft team, exclusive spas and swim spas retailer in Hungary for many years.
This was the opportunity to present the new Hydropool only world Self-Cleaning spa, the model H495, specifically designed for European needs and expectations.

Also, a 14' Aquatrainer Self-Cleaning swim spa has attracted lots of interested and curious people thanks to the live swimming demonstration throughout the show!


Last but not least, a luxurious Mosaic Tiled Spa, was completed the full range of spas and swim spas.

By visiting Hydropool Hungaria, you are sure to find the spa or swim spa of your dream thanks to a wide range of choice!

For more information, contact Balázs Veszprémi, Director of Hydropool Hungaria Kft.