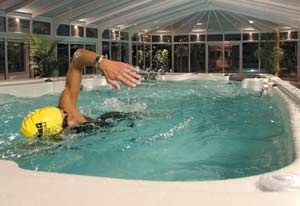 Hydropool
presents
Aquasport FX
, the acrylic swim spa. Thanks to this all-in-one design, one can accommodate a swimming pool and a «spa» in the same area. The counter-current swimming system consists of three independent and adjustable pumps that can satisfy all types of swimmers by adapting according to everyone's requirements.
Moreover, the strong under-water jets can also be used while standing for aqua gym and fitness exercises. The
«spa»
part can accommodate 4 people: its ergonomic seats, which are immersed very deep, are equipped with a set of adjustable dorsal massage jets with
«Venturi»
air-injection. This friendly area can be easily maintained at a specific temperature and remains available throughout the year.