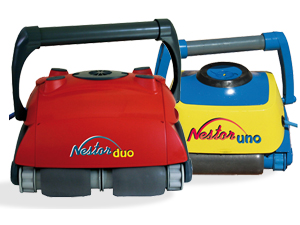 Efficient, straight-forward and economical,
the two new Nestor robots from Mareva
are designed for basins up to 90 m3 and adjust to all pool designs and surfaces. Wall and waterline cleaning is ensured by a high-traction PVA brush roll with suction power of 16 m3/h.
Nestor Uno
is delivered with a 17 m cable and a 10-micron bag and promises a cleaning within 3 hours.
Nestor Duo
is delivered with a 20 m cable and two bags (10-micron and 2-micron), and gives you a choice of two programs: short - 1 hour and 30 minutes - for a bottom cleaning, or long - 3 hours - for a complete cleaning (bottom, walls and waterline).
Intended for the European market, the documentation and directions for use are available in several languages (French, German, English, Spanish and Italian).