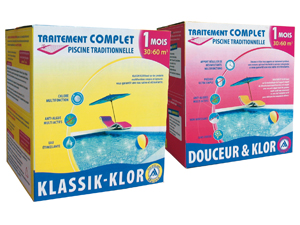 Mareva
offers new
Douceur & Klor and Klassik Klor all-in-one kits
for 30 to 60 m3 swimming pools. Simple to use, they are guaranteed to save you time and allow you to enjoy clean, sparkling water, effortlessly.
Klassik Klor
combines the classic elements of water treatment: multifunctional chlorine, pH reducer and algaecide.
Douceur & Klor
adds an additional guarantee - water that is less irritating, with no chlorine odor.
These two kits are available in attractive, easy-to-read and persuasive packaging, in cartons of 4 or in a half-box. They are made available as a special preview.