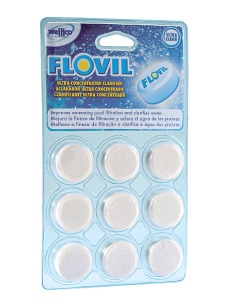 Introducing
Flovil
, a complete line of swimming pool and spa products from the French company
Weltico. Flovil
optimizes filtration action of sand filters, cartridge filters and pouch filters up to 5 microns.
These products cause microparticles suspended in the water to group together through electrostatic attraction and form filterable precipitates. Flovil thus replaces all liquid, powder and pill flocculants.

Weltico offers several new products in this line
:
Flovil Choc : faster than Flovil classic

Flovil Duo : clarifies pool water and prevents the formation of algae

Flovil Spa : improves filtration action and clarifies Spa water

Welclean : a concentrated cleaning solution for cartridge filters and sand filters

Secal : a calcium sequestrant.