The quality of a reagent system is fundamental to an accurate and successful analysis.
Tintometer has built its reputation on quality and dependability, providing water analysis products for more than 30 years.The test tablets Lovibond® are manufactured in Germany
under tightly controlled conditions on the latest machinery.
The highest quality standard permits the company to guarantee the reagent tablets for a minimum of 5 years, and some for as long as 10 years.
Each tablet is hermetically sealed within an individual aluminium foil pocket, protecting against challenging environmental conditions. This packaging keeps each tablet in perfect condition, right up until the time it is needed by the user.
Test tablets remain the most consistent and reliable reagent format available, consistently outperforming other reagent formats, and delivering maximum accuracy for the user.
The company has improved even further on this highly successful format. To the tight quality control processes, integral to Lovibond®'s tablet manufacture, and the simple test procedures, a new blister packaging has been added.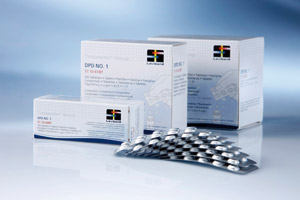 With the new aluminium foil blister packaging, the user just pushes the tablet through the protective foil, straight into the sample.
This type of packaging, long established in pharmaceutical applications, combines all the advantages of protective foil, with convenience for the user.
Each tablet is contained within an individually formed foil cup, lined with the latest aluminium composite material, and guaranteeing product performance.
As a result of improved sealing efficiency,
the blister pack has been reduced in size to 91 x 34mm
making them even more convenient for storage and shipping.
100 pack box > 38 x 38 x 99mm
250 pack box > 38 x 76 x 99mm
500 pack box > 76 x 90 x 99mm
Part numbers of the reagents remain the same, but 'BT' is added to the end of the code to identify the new style of packaging.