The company was founded in 1967 and is manufacturing premium swimming pool equipment with about 70% export to 70 countries. Since 2012, the Pahlen family has reacquired 100% of the company.
The head office in Stockholm, Sweden, with Production, warehouse and office, is a new built factory since 2014 of 7,000 m² where 50 employees are located.
Area sales managers are also located in Poland, Belgium, Dubai and Singapore and the main markets of the company are Scandinavian countries, Baltic States, Russia and CIS.
The production is divided into manufacturing with welding, metal processing and machinering and assembling.
The department for Component arrival and quality controls check all components of own manufacturing and components from subcontractors. After that, they are moved into the warehouse for components (about 6,000 pcs item numbers).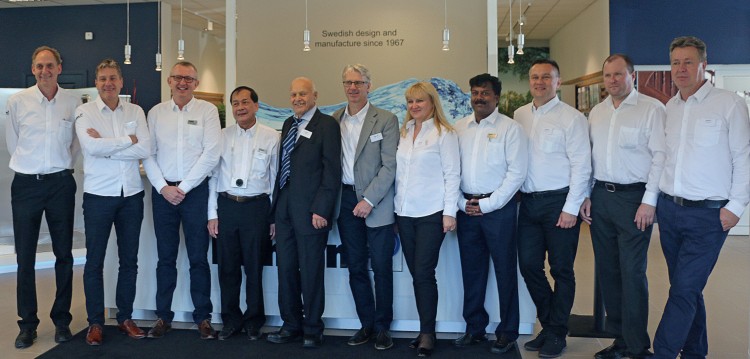 In the department for assembly, the company has flexible working stations for all the different products. The only exception is the bronze pump assembling as there is a separate test station where all pumps are tested individually.
After assembling and testing, the readymade products will be put in carton boxes ready for the warehouse. In this latter, Pahlen stores about 1000 pcs individual item numbers of products for immediate delivery.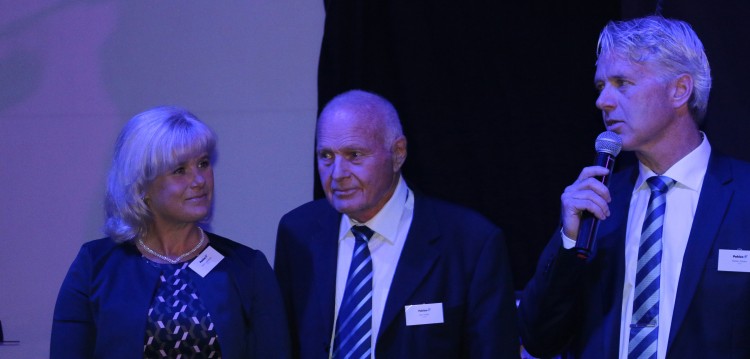 Bo PAHLEN surrounded by his children : Karin LAGERSTRÖM and Stefan PAHLEN
Its production is a combination of forecast and customer orders, with small quantities of products ready to be shipped immediately. For orders with larger quantities the lead time is of 2-6 weeks.
The production for the next season starts in August, with forecasts and preorders received in December, to plan the entire organisation.
On the upper floor, the offices are located with technical support, R&D department, Administration/IT/Quality/Purchase, Sales for Sweden, Russia/CIS countries, Customer service and Marketing department (total of 23 employees).
On September 15, to celebrate its 50th anniversary, Pahlen invited its customers, suppliers and employees, and some journalists, for a memorable day: first a factory visit and then they had a lunch on a boat in Stockholm, and in the evening they all enjoyed a party with dinner then danced in the factory!