The Heatstar Orion is a convenient and economical solution to condensation and temperature control, and is ideally suitable for smaller indoor swimming pools or swim spas.
A ducted swimming pool dehumidifier with room air and pool water heating
The Orion provides dehumidification, air and pool water heating and can be concealed in an adjoining room. It is designed for use with a special flexi-duct kit with grilles to offer a simple 'suck and blow' air distribution arrangement straight through openings in the poolroom wall. The high duty fan has the ability to 'throw' the air into the poolroom via the multi-directional air supply grille. It is also equipped with special air duct spigot adapters to enable the flexi-duct to simply be 'push-fitted' together.
The Orion simply stands on the floor in the equipment room and would usually only require an electricity supply, simple pipe connections to a boiler, pool water filtration circuit and waste water drain. It is designed and constructed to the highest possible standard and all components have been especially selected for use within corrosive swimming pool environments.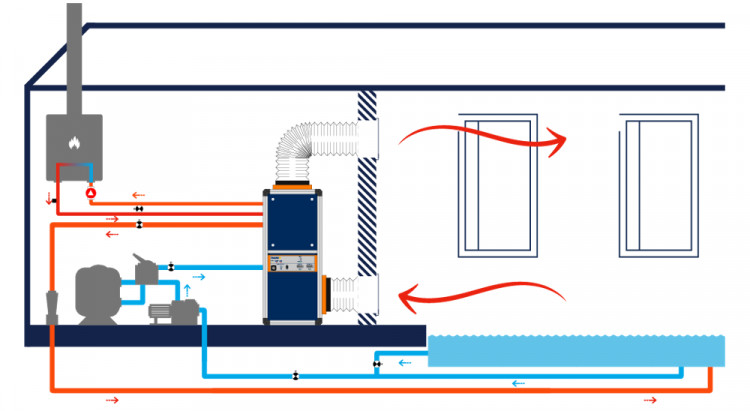 Typical Orion installation