A very efficient counter current swimming machine to enjoy your pool all year round
Evastream, the most powerful, compact and affordable counter current machine
Everyone should be able to fully enjoy their swimming pool. Not only in the warm summer months, but all year round! That is why Eva Optic has developed the EVAstream, one of the most powerful, compact and affordable counter current swimming machines in the market.
The EVAstream can easily turn any swimming pool into a home fitness environment. With this counter current swimming machine, you can use your pool for more than just a refreshing dip on hot summer days. With this counter current swimming machine, you can start your working day with an energetic workout or take a relaxing dive in the evening to release all the stress of a busy day. The counter current machine EVAstream means that you'll be enjoying your swimming pool all year round!
Watch the video .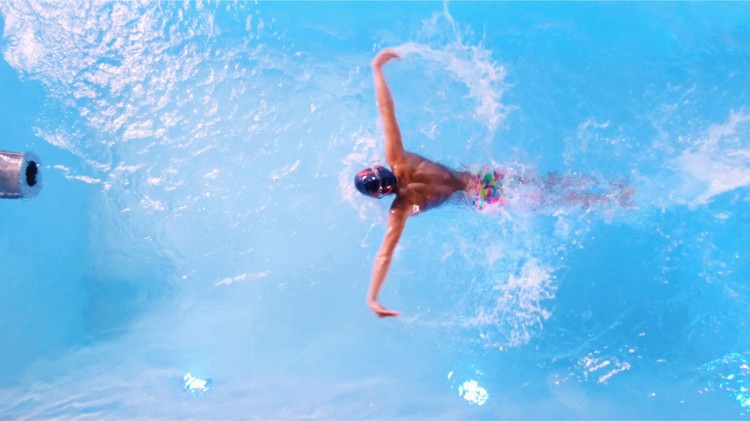 Swim with powerful counter current machine EvaStream
The advantages of the Evastream counter current swimming machine
Powerful :
The Evastream counter current machine creates a calm, wide and stable flow. It is so powerful that with just one jetstream, it offers competitive swimmers a challenging workout. The intensity of the current can be accurately adjusted to everyone's swimming level. Those who want to challenge themselves even more, without having to adjust the tempo manually, opt for the various pre-programmed training modules.
Compact,
suitable for all pools

:

The counter current machine can be placed in any swimming pool. With a new swimming pool you can choose to have the EVAstream recessed in the pool wall. In existing swimming pools, the EVAstream can be surface mounted on the wall as a fixed or movable module. The latter option offers countless options for extra fun. For example, move the counter current swimming machine to the side to create a spectacular rapid, or turn it into an underwater volcano by placing it on the pool floor.
Affordable and safe :
Smart design makes the Evastream counter current swimming machine affordable for everyone. The machine has been engineered to perfection and was extensively tested. The counter current machine complies 100% with the very strict quality and safety requirements, including NEN-EN 16852-1: 2015.
Various accessories for a

complete experience :

Various accessories are available. It's possible to control the EVAstream counter current swimming machine from a rotary switch, or remote control to a DMX controller with app. With the latter you can play pre-programmed training modules and fully adjust them to your own preferences. You can also easily create your own training programs or also connect your underwater lighting and ambient pool lighting to the DMX controller.