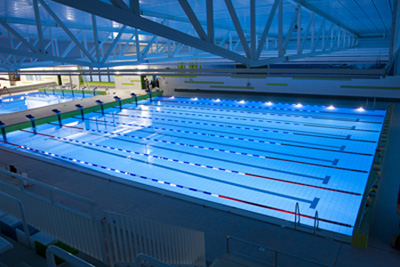 A commercial pool in the Netherlands has become what is claimed to be the first such facility in Europe to feature all LED lighting – for general and ambient units, as well as underwater lighting.
The new De Vrolijkheid pool at Zwolle in the north-east of the country also features advanced sustainable techniques designed to ensure that the most energy-efficient pool possible was built. These include solar panels (2550 sq/m), increased insulation, heat recovery, cooling and rinsing water system, grey water circuit, high-efficiency motors in air handling units, connection to a biomass plant, a solar water heater and LED lighting.
Designed and supplied by Dutch manufacturer Eva Optic, the LED lighting system claims to overcome previous limitations regarding light intensity, suspension method and waterproofness.
Eva Optic says its LED lighting systems have sufficient light intensity to meet the stringent demands of FINA, the IOC and applicable international standards – including Class I international competition pools and even Olympic pools.
The company reckons to be the only manufacturer with a complete range of LED lighting for public pools and water parks, with the ability to create an LED-lit pool complex with no compromise on light intensity, light colour or functionality.
According to Eva Optic, LED offers options for swimming pools that are not possible with conventional lighting – for example, the ability to dim the lights; and having a central control system determining the brightness and lighting colour of groups of lights, or even individual lights (ideal for disco swimming).
Eva Optic's LED lights are also being installed in the new Krommerijn Olympic pool in Utrecht in the Netherlands, which is shortly due for completion.