A complete spa combining relaxation and fitness
The Wellis spas brand
With the current pursuit for a healthier lifestyle, the demand for quality wellness products is on the rise and the Wellis spas brand has seduced more and more people in Europe in this matter. The brand works with more than 300 international partners and a widespread domestic partner network, providing its customers the latest smart solutions for hot tubs.
As a result of renowned quality and more than 15 years of professional experience, its spas were awarded at numerous international exhibitions. Today, it is more than 500 sales points worldwide and 9000 spas produced every year.

The characteristics of the new Rio Grande 2019
Among the latest ones, the new Rio Grande 2019 is the result of a long-developing period. This swimspa is a combination of a whole spa providing relaxation for mind and body and a powerful and efficient fitness machine for improving endurance.
It comes with the Malaga well-known style and is equipped with a waterfall and 3 laminar jets which bring a relaxing atmosphere by their visual effect.
The user benefits from 40 massage jets, for an enhanced experience of spa, and a 50 sqf filter to keep the water clean. Wellis has many arguments to convince private individuals to acquire a swimspa instead of a swimming pool. Obviously, a swimspa takes less space, ideal for small yard or cramped garden.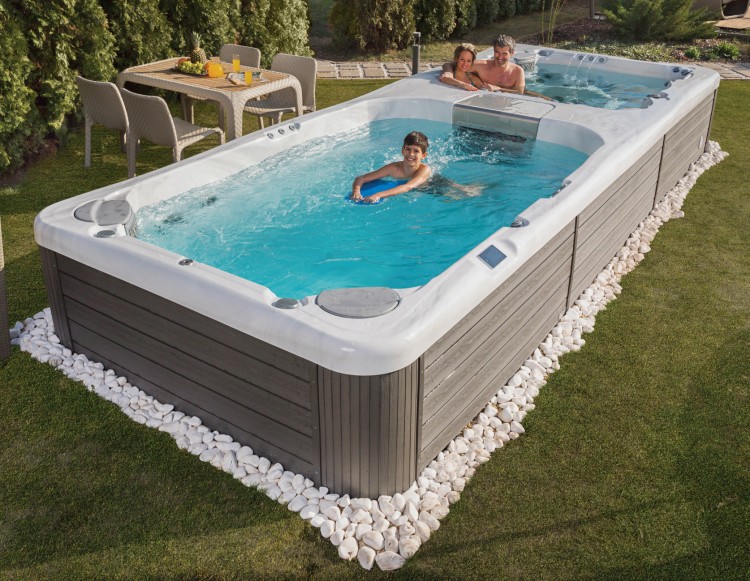 Rio Grande swimspa
The benefits of a swimspa
A swimspa can easily stand against the seasonal changes and can be used all year long, especially if installed indoors. The average maintenance costs of a swimming pool for the warmer months are almost the double of those of a swimspa for a year. And the safety cover (a hard cover which comes standard with the swimspa) can also make a huge difference in those costs while protecting from accidental access in the swimspa.