The latest patented innovation from CTX is a range of pool sanitizers formulated without boric acid.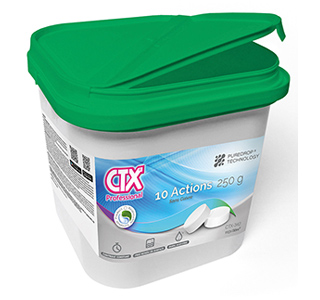 Boric acid is generally used to prevent the adhesion of the tablet to the mould, but it has been identified as an endocrine disruptor.
That is why PUREDROP® TECHNOLOGIE uses a boric acid-free additive that is safe for swimmers.
The disinfection process consists of a very homogeneous dissolution of the tablets of chlorine, which is released regularly and dissolves slowly in the water for more effective disinfection.

Another advantage: the additive contained in the tablet does not produce any residue because it is fully soluble in water.
Its use therefore requires less flocculants and less filter backwash.
Result: savings in products and water!